Dramatic mountains, gorgeous towns and charming villages, spectacular castles and vistas that make you want to stop and simply watch the sunset – welcome to some of Europe's best road trips!
From Germany's medieval towns to the towering mountains of Switzerland, the warmth of Spain to the quirky charm of the UK, let us help you plan your European driving adventure with these five great road trips to embark on this summer.
Germany – the Romantic Road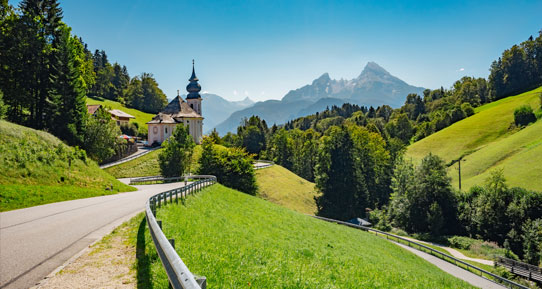 One of the best road trips in Europe, the Romantic Road takes you through the very heart of Bavaria, from dramatic mountains and dense forests, through medieval towns and mighty castles.
It's approximately 260 miles long and includes such highlights as Munich (great for shopping), Nordlingen, Rothenberg, the ancient city of Nuremberg, Dinkelsbuhl, and the truly awe-inspiring Fussen, home to the famous Neuschwanstein Castle. This fairy-tale jumble of whitewashed towers and turrets is everything a German castle should be, surrounded by spectacular countryside.
Nordlingen has some of the most intact medieval town walls in Europe, while the brightly coloured village of Dinkelsbuhl is an absolute delight. Along the way, you'll find plenty of accommodation and a thousand reasons to pull over your Hertz rental car, stop, and admire the view!
France – Normandy and the Loire Valley
You could spend months travelling around France and its various regions. In the far south, you'll find hot, dry weather and acres of lavender fields, while in the north you can explore the stunning Loire Valley and the picture-perfect Normandy region,here you'll find the very best food, culture, accommodation and historical chateauxs. Start in the harbour town of Cherbourg, and then travel along the coast to Honfleur.
On the way, you can stop off to see the historic Bayeux Tapestry (before it spends some time over in the UK this year).
If you love nature, then the Parc Naturel du Perche is a must see. Stay at the stunning Villa Fol Avril chateaux, and don't miss taking a drive to Saint-Ceneri-le-Gerei, regarded as one of the most beautiful villages in France. A couple of hours' driving will take you down to the sweeping vineyards and stunning views of the Loire Valley.
Switzerland – mountains and chocolate!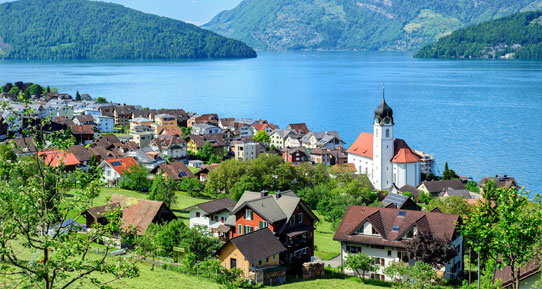 It may be smaller in comparison to its neighbours, but Switzerland packs in plenty to see and do on your 2018 European road trip with Hertz. A road trip of around 390 miles will take you around Lake Lucerne through the Lauterbrunnen Valley, the famous cheese region of La Gruyère, past the awe-inspiring Aletsch Glacier and finally onto Val Müstair.
Lake Lucerne gives you a real sense of Swiss history, from the traditional houses to local crafts that are still practised today. Hop on the chairlift at Stoos and head up to the viewing platform at Fronalpstock for the best views. For even more breath-taking scenery, head off to Lauterbrunnen Valley where huge 300-metre-high cliffs covered in forests tower above you.
To stop off at La Gruyère is a must, if only to taste some authentic cheese and creamy, delicious Swiss chocolate! Then it's on to Aletsch Glacier for some more dramatic views. Finish your Swiss adventure in Val Müstair to take a wander around a cluster of six unique villages that date back to the 6th century AD.
Spain – A two-week tour of Andalucía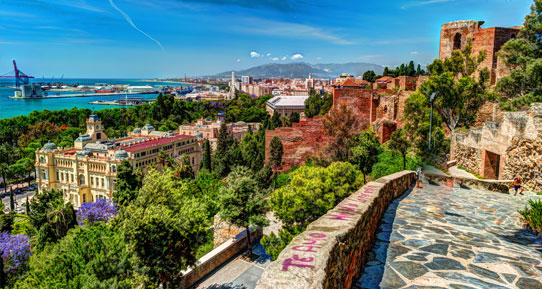 Get ready for an epic road trip that'll take you through the heart of Spain. This 870-mile trip may be a long one, but it's worth every kilometre! Pick up your Hertz rental car at Malaga and head straight to the beach at Nerja (or find a quieter spot at nearby Herradura). After a day lazing on the beach, head up into the Sierra Nevada national park for some hiking.
Once you've explored the views on offer at spots like Bubion, head to the 10th-Century remains of Almeria, and the nearby beaches of Cabo de Gata.
Love Spanish food? Then try the best Tapas in the country in Murcia before heading onto the Moorish city of Cordoba. Finish your trip in Seville and Granada, two of the most historically important and impressive locations in this diverse and fascinating part of the country.
The UK – Bonny Scotland and the North Coast 500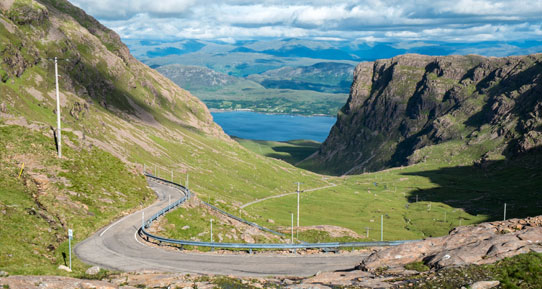 Head to Scotland's north coast for some seriously dramatic scenery and glorious solitude. The 800km circular trip will take you all the way around the breath-taking coastline with a few excursions inland to see some of the country's most spectacular scenery.
The ideal amount of time to take to really experience the wonders of North Coast 500 is about 5-7 days. From Inverness and the Black Isle, you'll head past Caithness, Sutherland and Wester Ross, discovering a landscape of craggy cliffs, dramatic inlets and hidden villages along the way.
There are plenty of castles and stately homes to visit along the way such as the dramatic Loch Maree (and no, there are no monsters in this particular loch!). Loop back around and you'll cross the Applecross Peninsula, one of the most isolated and gorgeous roads in the UK. Don't expect to meet too much traffic on this road trip – it's definitely one for adventurers who love getting away from the crowds!
It's never too early to start planning that European road trip, so dig out your map, pack your suitcase, and join us on the road!