If you're looking for the ultimate US roadtrip, who better to ask than the travel experts at Emirates Skywards! They've put together top tips to follow for a smooth ride.
Forget Route 66 – for the most breathtaking and stomach-satisfying drive-of-a-lifetime, hit California's Pacific Coast Highway.
The Pacific Coast Highway (PCH), also known as Route 1 or Highway 1, runs for almost 885km along the Californian coastline and makes for the most beautiful road trip in America, if not the world! Starting in San Francisco and ending in LA, you can enjoy non-stop ocean views, serrated coastlines, stunning cliffs, an abundance of wildlife, and some of the best restaurants on the planet.
Start: San Francisco
2 nights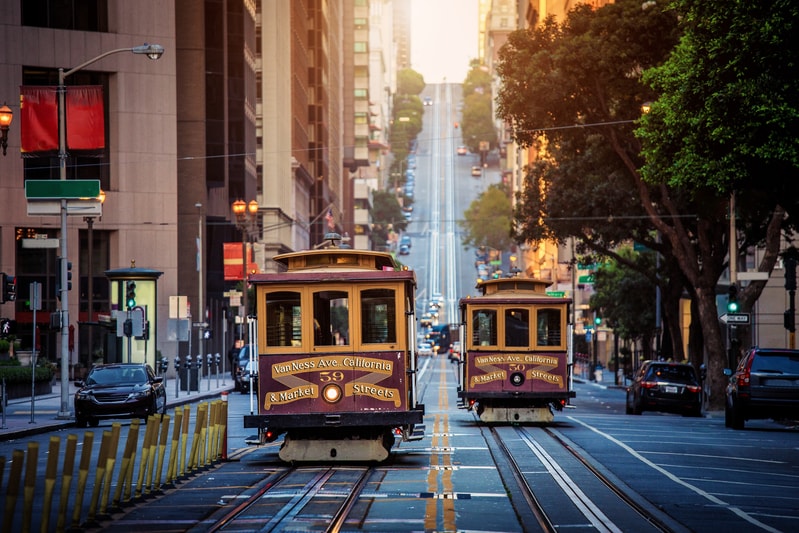 The biggest challenge you'll face when visiting San Francisco (SF) is trying to cram everything in. From the fog-shrouded Golden Gate Bridge and the legendary cable cars, to the noisy seals at Fisherman's Wharf and the eerie atmosphere at Alcatraz prison, San Francisco is anything but boring. But to really get a sense of this great city, take time to explore its unique neighbourhoods, too. Check out the hippie vibes in Haight Ashbury, the busy fortune cookie factory in the heart of Chinatown, and the free-spirited, colourful Castro district.
EAT HERE! State Bird Provisions
Arguably the hottest restaurant in SF (with a two-month waiting list), this Michelin-star restaurant serves creative Northern Californian food via dim sum carts. Don't miss the delicious burrata bread and the fried quail. The atmosphere is fun, if a little frenzied, but you'll be hard-pressed to have a more memorable dining experience in California.
Stop 1: Santa Cruz
1 night
Celebrated as the birthplace of mainland surfing, Santa Cruz has a very mellow, small-town mentality, which makes for a stark but welcome contrast to the new-age techies you'll find in SF. Highlights include several hiking trails among enormous redwoods, and the famous Beach Boardwalk, home to the state's oldest theme park.
EAT HERE! Swanton Berry Farm
As you approach Santa Cruz (approximately 15 mins before the town centre), make a pit stop at Swanton Berry Farm. Sit inside the quaint farm house and snack on their homemade blackberry pies. Don't forget to ask for a dollop of freshly-whipped cream.
Stop 2: Carmel-by-the-sea
1 night
Carmel is one of those quaint villages with colourful fairy-tale cottages, dog-friendly beaches, and such stunning natural beauty that it almost feels like you've stepped on to a film set. Fun Fact: From 1986 to 1988 the mayor of Carmel-by-the-Sea was none other than Dirty Harry legend Clint Eastwood. Keep your eyes peeled as he still lives in the area at his private ranch.
EAT HERE! Roux Restaurant
Many Carmel visitors head inland to Carmel Valley, famous for its vineyards and tours. Make a point to stop at ROUX restaurant, a charming bistro serving excellent Mediterranean tapas.
Stop 3: Big Sur
3 nights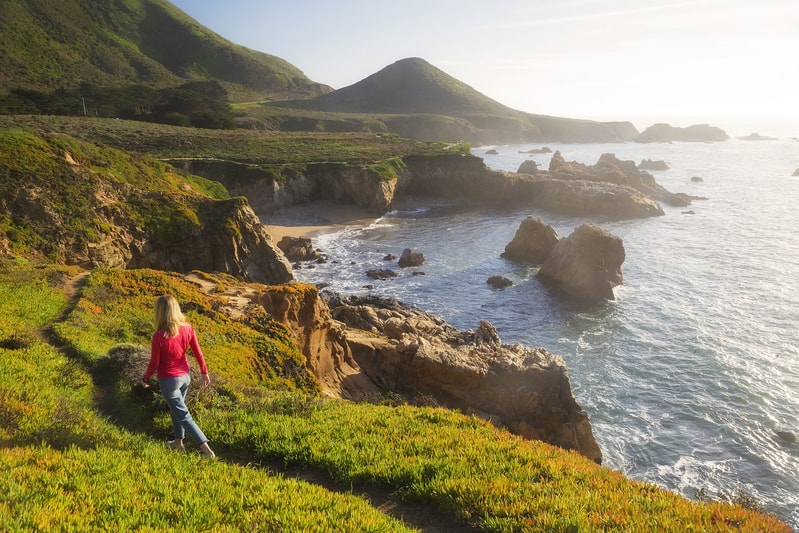 If you've watched Big Little Liars, or any international car ad for that matter, chances are you've seen Big Sur. It's home to some of America's most scenic vistas, not to mention incredible state parks that are perfect for hikers. With waterfalls, blue whales, cougars, peregrine falcons, and other incredible wildlife on offer, Big Sur is at the heart of the PCH, and the area you'll want to spend the most time in. Pull over just before Bixby Bridge – one of the most photographed bridges on the Pacific Coast.
EAT HERE! The Sur House
With the Pacific Ocean ahead, and the mountains at your back, the view from The Sur House is spectacular. Enjoy the view as you feast on the restaurant's bestseller, the gargantuan Sur House cheese burger – a short rib and brisket blend served in a chewy pretzel roll.
Stop 4: San Simeon
It's definitely worth making a pit stop at Hearst Castle in San Simeon, a grand estate formerly owned by politician and publisher William Randolph Hearst. The mansion has a whopping 165 rooms full of Hearst's personal art collection. There are also terraces, pools and gardens should you want to stretch your legs a little more.
Stop 5: Santa Barbara
1 night
There's a reason why celebrities such as Oprah Winfrey, Tom Cruise and Jennifer Lopez choose to live in Santa Barbara rather than Los Angeles – it's picture perfect. The city – affectionately known as The American Riviera – sits at the base of the Santa Ynez Mountains on one side and beautiful beaches on the other. And because of its location, the climate usually feels 10-20 degrees cooler than downtown LA. It's also home to chic concept stores, five-star hotels, and converted warehouses transformed into hip new bars and restaurants.
EAT HERE! The Lark
Much-lauded restaurant, The Lark, is housed in a former fish market, but don't let that put you off. The entire neighbourhood (known as the Funk Zone) has been gentrified and The Lark has become the place to go in Santa Barbara. The menu is split between 'the farm,' 'the ocean,' and 'the ranch' with most of its produce locally-sourced. Sit outside on the fairy-lit patio, and enjoy the family-style roast chicken.
Finish: Los Angeles
2 nights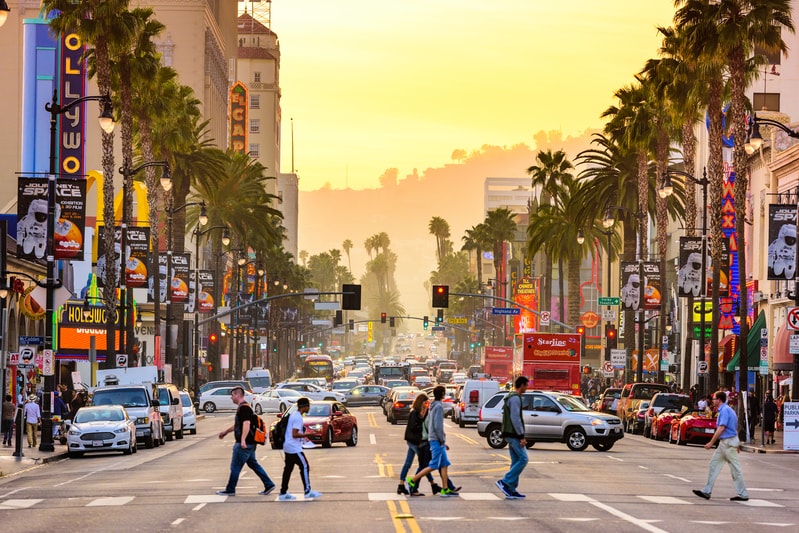 Los Angeles (LA) can be an overwhelming place. Some people just make a beeline for the Hollywood Walk of Fame and call it a day, while others hire an electric scooter and whizz from Venice Beach to Santa Monica. Then there are a handful of visitors who come to rub shoulders with the rich and famous in Beverly Hills, and those hitting up West Hollywood (WeHo) in search of the latest Instagram worthy vegan café. Whatever your preference, rest assured that LA delivers.
EAT HERE! Gjelina
Located at one end of the uber-cool Abbott Kinney Road, Gjelina is the quintessential farm-to-table style restaurant serving sharable plates with steak, seafood and oysters. The real speciality, though, is pizza. The wood-fired, Neapolitan-style pies are topped with vegetables, truffle and cheese combinations that are out of this world.