Whether you're looking for a short hop or a longer weekend getaway, hire a car from your local Hertz branch and explore the UAE with these five great road trips that will reward you with incredible scenery and the experience of driving along some of the best roads in the world.
Dubai to Jabal Jais, Ras Al Khaimah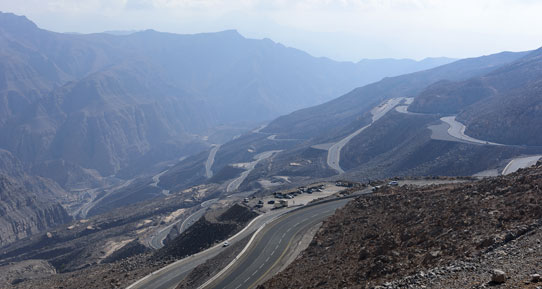 180km from Dubai and more than 300km from Abu Dhabi is this glorious mountain retreat, some 1900m above sea level and tucked in the Hajar Mountains. A long, smooth road makes this an enjoyable and easy drive, and if you want to make the trip doubly special head off the evening before so you can catch one of the most incredible sunrises in the UAE from atop Jebel Jais. Bear in mind that you're up in the clouds, so take some warm clothing as temperatures can drop quickly. But the drive is well worth it, as the views are truly spectacular.
Fujairah
With ultra-smooth roads and stunning scenery, this popular road trip is not only a pleasure to drive, but you have a great destination at the end too. It's not a long haul, and you're just 184km from Dubai and 300km from Abu Dhabi. So it's long enough to feel like a proper road trip, but easily completed in a weekend. At the end of the journey you're rewarded with some of the best diving in the Gulf, Martini Rock is a famous rocky structure off the coast, it is perfect for a night dive , or stunning mountain roads and hiking trails to explore such as Wadi Tayyibah where you can view natural pools and traditional irrigation systems . If you want to stop en route and extend the journey rather than completing it in one go then there are good quality hotels along the way for a night's break such as Fairmont Fujairah Beach Resort and InterContinental.
Jebel Hafeet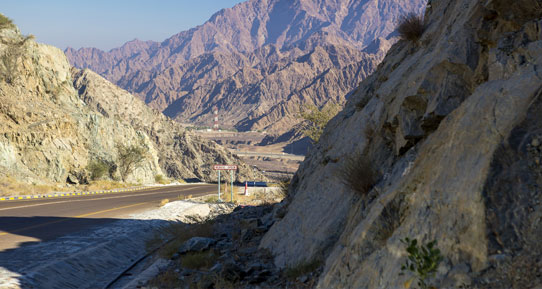 If you're a true driver, then this road is an absolute treat. Twists, turns, and even some 180-hairpins will challenge you as you wind your way through this mountainous route. 165 km from Dubai and around 175km from Abu Dhabi, it takes you up a 1,240m climb through limestone cliffs to the UAE's highest peak. The drive is well worth it, as the view from the top of Jebel Hafeet is spectacular. You'll have panoramic vistas that take in the desert, Oman, and al Ain. The road itself has 60 turns and is regarded as the 'greatest driving road in the world' by industry experts. Come for the drive, stay for the view!
Abu Dhabi, UAE – Al Gharbia, UAE
A journey of approximately 236km, this road trip will take you through towering sand dunes and along hundreds of kilometres of amazing coastline. That makes it a comfortable trip too, as the breeze from the coast keeps the temperatures in check. Ancient forts dot the landscape, which is truly breath-taking. You won't see many people in this remote region, but you will see plenty of rare wildlife.
Abu Dhabi to Liwa Oasis, UAE
It's around less than 3 hours drive to the Liwa Oasis, but it's worth every second of that trip to see one of the most spectacular desert landscapes in the world. Liwa itself is simply a patchwork of small settlements that surround the lush oasis. Beyond the greenery of the oasis stretches Rub al Khali or the (appropriately named) 'Empty Quarter', where towering dunes dominate the landscape. If you're here in a 4×4 and love dune bashing, then the ultimate challenge is the Mureeb Dune.