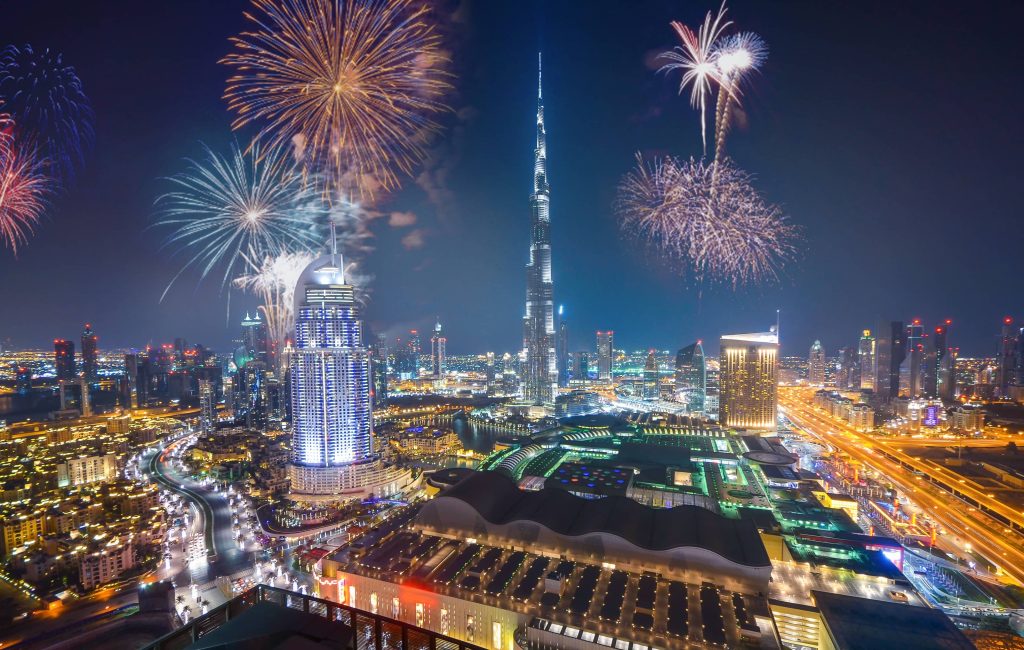 The UAE loves to celebrate. And when we get an opportunity to party, we love our fireworks. Whether it's Christmas Eve, New Year, or any other excuse to light up the night sky, we break out the pyrotechnics and wow the crowds.
So where are the best spots to watch the fireworks? And how can you get to and from those top spots in comfort? Here are some tips from Hertz Car Rental.
Christmas in Dubai
While the UAE is predominantly a Muslim region, all religions and faiths are welcomed here. So Dubai loves to join in with the Christian celebration of Christmas, after all, who doesn't love a party? Although we're surrounded by deserts, you can still get that wonderfully wintery feeling by taking a trip to Ski Dubai at the Mall of the Emirates. Slap on your salopettes, strap on your skis and experience a winter wonderland.
Afterwards, grab a frothy hot chocolate as an indulgent treat and head over to the Dubai fountains for their incredible light and laser show every evening. It's a dazzling display of synchronised magic using the fountains as the focal point and adding in a fantastic light and music show that is sure to wow everyone of all ages. There are bound to be some fireworks in the mix too, so keep a lookout for updates at key locations such as the Burj Khalifa.
Dubai Shopping Festival
The festive season is a perfect excuse to go shopping and buy gifts for loved ones, but in Dubai you can go one better with the amazing Dubai Shopping Festival. Not only is this your chance to shop 'til you drop, but the festivities keep everyone entertained as well. Concerts, live music, shows and firework displays dazzle audiences at Dubai Opera and the Global Village, or head down to the beach for the best seats in town and watch the festival's fireworks light up the sky.
The festival lasts from December to February, so you have plenty of time to hunt out bargains, grab deals, and try some authentic cuisine at Burj Park. Just make sure you hire a car from Hertz to get all those amazing bargains back home again.
New Years Eve
The holidays are another opportunity to enjoy yourself in the UAE. From the quiet tranquillity of Christmas Day itself to all the excitement of New Year's eve, firework displays play their part in the festivities.
The tallest building in the world is the focus of Dubai's New Year fireworks, with a fabulous display of fireworks lighting up the sky around the Burj Khalifa. Combined with a dazzling laser show, it's the perfect way to see the New Year in. Bookings in the tower's restaurants are quick to sell out, so you'll need to book well ahead to get a prime spot for the show.
If you can't get a seat in the tower itself, other top spots to watch the fireworks include the Dubai Fountain (which has its own music and light show too), or Souk Al Bahar for a really clear view of the show.
The iconic Burj Al Arab, that gorgeous replica of a classic dhow in full sail, is always a centre point for New Year celebrations. Combining a light show and firework display on the stroke of midnight, it's a real crowd pleaser. Watch from a table at one of the restaurants in the elegant Madinat Jumeirah resort, or drive down to Kite Beach and sit on the sand to watch the show.
Out-of-town displays – how Hertz can help
If you're not in Dubai for New Year's Eve, you'll find celebrations taking place all across the UAE. From Abu Dhabi to Sharjah and Ajman, celebrations are just as passionate and just as exciting. To get to these events, a hire car from Hertz Car Rental is exactly what you need. If you're taking the whole family to the show, you can benefit from great deals for short-term rentals and leasing.
A family-friendly Toyota RAV-4 is perfect for a holiday to the beach, or why not hire a super-efficient Toyota Camry Hybrid to get you around town while keeping your carbon footprint down? Bear in mind that parking is going to be at a premium during the celebrations, so choose a nippy Honda City to get you through the traffic.
Check out what's on offer online, and keep a watch out for our special deals this festive season.