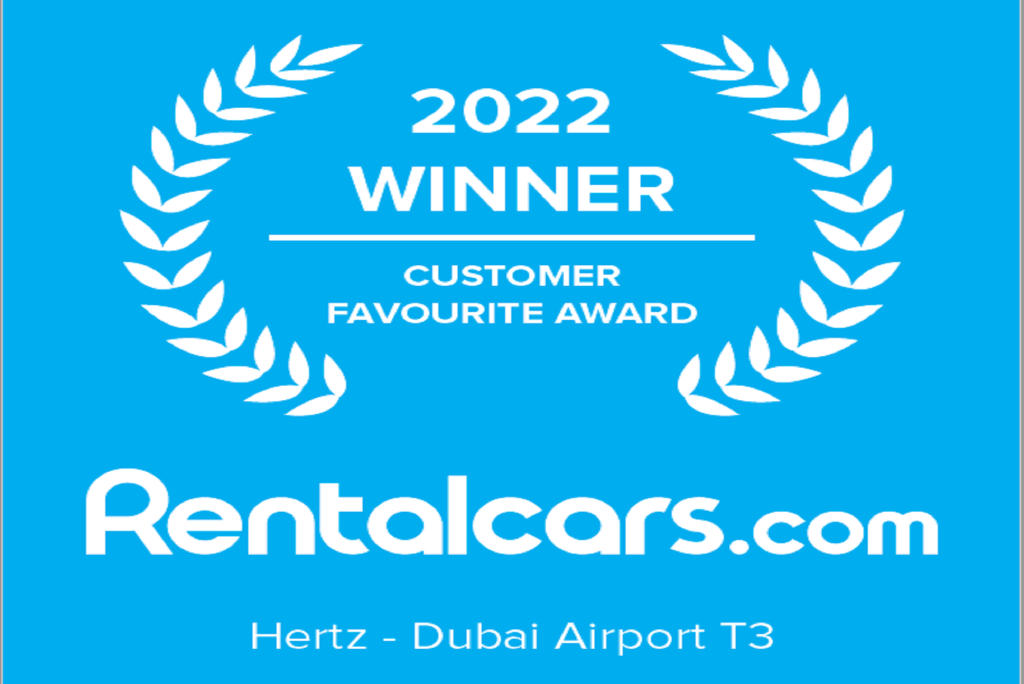 The team at Hertz UAE have once again been recognised for their outstanding customer service and skill by winning the prestigious Booking.com Customer Favourite Award. In recognition of their constant ability to deliver a world-class experience in one of the world's busiest locations, Booking.com customers voted Hertz the best in 2022.
Even during a global pandemic, the dedicated team at Dubai Airport Terminal 3 consistently provided a helpful, friendly and professional service to both Dubai residents and visitors from all over the world. Now, that dedication has been recognised with yet another win in what is a highly competitive category.
Why do Hertz keep on winning?
It's simple – we always put the needs of our customers first. We've also made sure that the process of renting a vehicle with Hertz is quick, easy, and convenient. We set the bar high when it comes to customer service, and we make sure there's plenty of choice, too. The award proves that Hertz is getting this careful balancing act just right. The team at Dubai Airport Terminal 3 has taken the principles of exceptional customer service to the next level.
What's on offer at Hertz
Hertz has a vast range of top-quality vehicles available for everyone, from business customers to families who want to take that epic road trip across the desert. The principle behind Hertz's UAE collection of cars is that there should be no compromise on comfort, practicality or performance. So you have a choice of slick city cars such as the Honda CR-V, the family-friendly Toyota Corolla, or an economical hybrid such as the Toyota Yaris.
For the ultimate road trip, the Toyota Land Cruiser calls on decades of history and development to deliver an SUV that can tackle a long adventure but with superior comfort and interior styling. And although Hertz cars cannot be used to go off-road, they will get you to that mountain retreat for the weekend in real style. Luxury cars such as the Lexus UX gives you all the latest technology and onboard advantages, while the legendary Toyota Hilux is the ultimate work vehicle for all situations.
It's not just the variety of vehicles on offer that makes Hertz special. Add in some great offers, flexible monthly hire or longer-term leasing options, and the ability to pre-book your UAE Hertz car rental from anywhere in the world, and it's no surprise that the Hertz experience is a multi-award winning formula.
A big thanks to all our customers
What really makes Hertz unique isn't the great cars we offer or the fantastic deals – it's our customers. The Booking.com Award is the result of excellent reviews by thousands of happy customers who have trusted Hertz to take care of their motoring needs. We couldn't be the best in the business without our amazing customers, so thank you from the whole team!
Our aim in 2022 and beyond is to keep building on our achievements and success, and we always strive to deliver the very best customer experience for every single person. We'll be working on establishing new links with business partners worldwide and continually improving the services we offer to take into account a changing marketplace. With more hybrids, more eco-friendly options, and a greater choice of both short and long-term offers, Hertz is driving the future of car rental forward.
To find out more about what we have to offer, browse our UAE Collection, check out our FAQs for leasing and rental, or contact us today and talk to one of our team.