From historic landmarks to boutique shopping, Munich has so much to offer visitors, no matter what time of the year you pay a visit to this historic German city. Famous for being the home of cutting-edge technology and motor engineering, it's a thriving, forward-thinking city that's popular with business travellers. But alongside the modernism and continuous development sits a more cultured, ancient aspect to the city – one that draws visitors from around the world.
Bavaria is famous for its stunning landscapes and magnificent castles, so once you tire of city life it's easy to hop into your Hertz rental car and go exploring. Here are the best things to do both in Munich, and day trips that'll help you discover the richness of the surrounding countryside.
Things to do in Munich
Whether you're here for the Christmas markets or the summer sunshine, you'll find that Munich is a joyful, exciting city. Head to Marienplatz, which is the epicentre of community life in the city. Surrounded by gorgeous architecture and dazzling sculptures, the trick with this popular spot is to look up as well as around. That way you'll catch sight of the famous town hall clock, the Rathaus-Glockenspiel, resplendent with a cluster of figurines that act out a 12-minute show three times a day at 11am, 12 noon, and 5pm.
Grab a breath of fresh air and take a walk through the Englischer Garten, an 18th-century park that's larger than New York's own Central Park. If the weather turns a little cooler then head inside into one of the city's great museums such as the Residenzmuseum, or for true petrolheads the BMW Welt is a must-see and one of the most important motor museums in the country.
Head out on a road trip
After you've taken a wander around the city it's time to head out into the surrounding countryside to discover more about the history, culture and activities on offer in this part of Germany. Here are our top five day trips that are all within easy reach of Munich:
1. Neuschwanstein Castle
Think German Schloss's and you're probably picturing this epic castle in your mind's eye. This is the ultimate fairy-tale castle, and is the inspiration for the Walt Disney Princess' castle at Disneyland. It's just a two-hour drive from Munich so it's perfect for a day trip.
It's a masterpiece of German architecture and genuinely stunning. If you pick just one day trip from Munich, pick this one.
2. Salzburg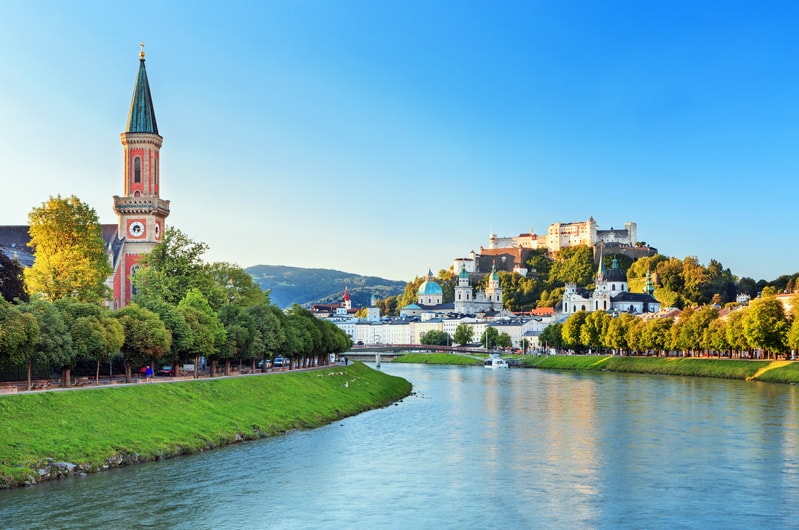 Hop across the border into Austria and spend a day waltzing your way around this magnificent medieval city, complete with an alpine backdrop and glittering river running right through the middle. It'll take you about two hours to get there, so set off early to get a full day's sightseeing in. On the way back, why not swing by Passau, one of the prettiest towns on the Austrian border and full of wonderful art galleries and boutique shops to explore?
3. Mount Eckbauer
If you're here during the winter months, this exceptional ski and winter sports destination is a must see. Even if you're not a keen skier or snowboarder, you can take a trip in the gondolas all the way up to the top of the mountain and get fabulous panoramic views all the way up.
4. Chiemsee Lake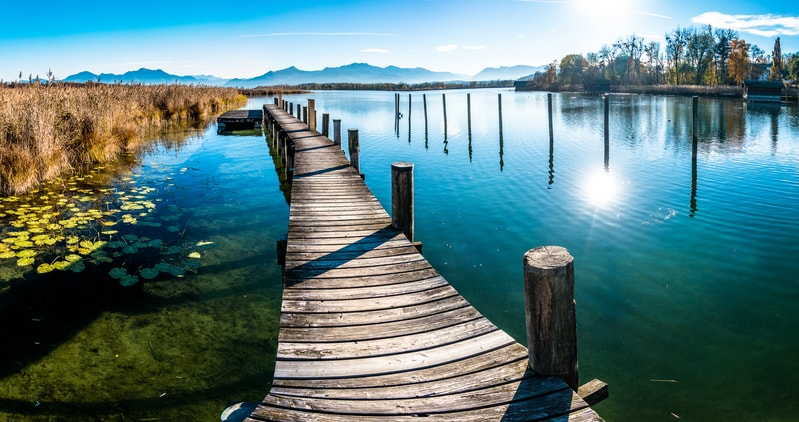 Approximately two hours' drive from the centre of Munich is one of Germany's best-kept secrets, the gorgeous Chiemsee lake. This is the largest lake in Bavaria and is a charming spot for a quiet day's relaxation. There are great facilities here including indoor and outdoor swimming pools and a rather excellent selection of restaurants. If you're looking for something a little closer then the serene peace and quiet of Walchensee Lake is just an hour away from the city centre.
5. Rothenburg ob der Tauber
Make sure you've got an extra memory card for your camera because there's nowhere quite like this utterly Instagrammable historic town. Stunningly preserved and painted all the colours of the rainbow, it's cobbled streets and timbered houses are like something out of Grimm's Fairy Tales. Rothenburg can get very busy with visitors in the summer, so head there early to get a good parking spot, then spend the day strolling around the pretty streets and charming boutiques.