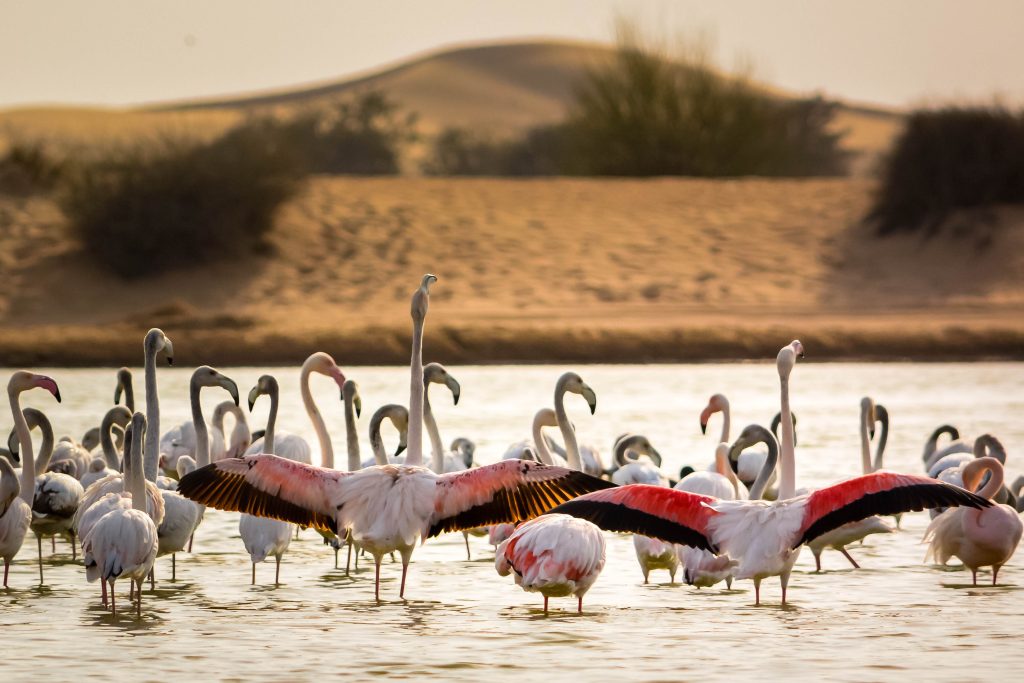 The UAE may be one of the most dramatic and incredible landscapes, but what many people don't realise is that there is an abundance of wildlife to see across the region too. From flocks of pink flamingos to the rare and majestic Arabian Oryx and the elusive Arabian wolf, there are plenty of opportunities to encounter wildlife in the UAE. Here are a few tips on how to see wildlife in the UAE safely, and how Hertz Car Rental can help you discover more about the natural wonders of this incredible part of the world.
More than just camels
There's much more to the UAE's wildlife than just camels. However, these amazing animals are part of the history, the culture and the heritage of the region and have even been used as currency. If you want to see these gentle creatures up close, you can go on a desert safari, or take a drive to watch all the excitement of a camel race at Al Marmoom camel race track.
Fabulous falcons and flamingos
Falcons are revered in the UAE, and hark back to the dawn of Middle Eastern culture and the Bedouin people, who considered the falcon to be a symbol of wealth and power. If you're planning a holiday in Abu Dhabi you can hire a car from Hertz Car Rental and visit the amazing Falcon Hospital, where these magnificent birds are cared for. Or visit the Falcon Museum in Dubai and fin out about the history of the birds within Bedouin culture.
For those flocks of pink flamingos, hire a family-friendly SUV or crossover and head to the amazing Ras Al Khor Wildlife Sanctuary just outside Dubai. It's a short drive from the city and a great afternoon outing for the family. It's free to enter, and you'll see large numbers of these colourful birds in the ponds and lakes throughout the sanctuary.
The Green Planet
In the heart of busy Dubai's City Walk district is a remarkable biosphere that transports you to a tropical rainforest. The Green Planet is filled with over 3,000 animals and plants, from sleepy sloths to fruit bats and pythons.
Dubai Desert Conservation Reserve
Covering over 225km², this unique and protected habitat is within easy driving distance of Dubai. Only a few select operators can provide tours within this Reserve, keeping visitor numbers down and ensuring that rare creatures such as the Arabian Oryx can roam freely without being disturbed. Choose from a short morning tour or make a weekend of it with an overnight camping experience followed by an early-morning hot-air balloon trip high above the sand dunes.
Jumeirah Al Naseem Turtles Sanctuary
The UAE's wildlife isn't just confined to the land. Close to the hustle and bustle of Downtown Dubai is this amazing turtle sanctuary, where these gentle creatures are cared for in a specially constructed outdoor lagoon before being released back into the wild.
Sir Bani Yas Island
You wouldn't expect to see zebras and giraffe wandering freely in the UAE, but that's exactly what you get at the Arabian Wildlife park on Sir Bani Yas Island. This 1,400-hectare park is home to over 10,000 animals and the ideal family day out for wildlife lovers. There's even a small family of hyenas to look out for, as well as native species alongside more exotic residents.
Going green with Hertz Car Rental
If you love the idea of a greener world for our children, our Drive Green package is the ideal way to explore some of the region's best wildlife encounters without harming the planet. You can explore all these amazing places and so many more by hiring a car from Hertz. From long-term leases to weekend deals, we have plenty of car rental offers for you to choose from. If you've always wanted to drive a Polestar in the UAE, or find out what it's like to drive an EV, you can hire an electric car and go on a wildlife adventure, while keeping your carbon footprint down to a minimum.
To find out more about renting and electric car hire from Hertz, browse our website and check out our Drive Green package today.