German Christmas markets are famous around the world, not just as great places to shop for unique Christmas presents, but as a wonderful winter experience too: meeting new people, feeling involved in a festive tradition, and enjoying shows and events at this special time of year. There are German Christmas markets all over Europe, but for the best you need to go back to the source – the towns and cities of central Germany. So here are our top picks of the best ones!
Nürnberger Christkindelsmarkt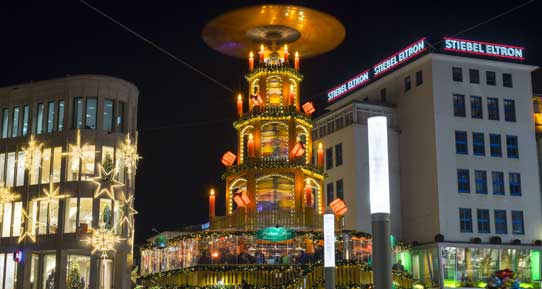 Top of the list has to be this hugely popular market in Nuremburg. The market takes place during advent and fills the squares and streets around the central square in the Old town. It's a superb place to find luxury, hand-made gifts you won't find anywhere else.
Hannover Christmas market
Hannover is a very cosmopolitan town, and has several Christmas markets to choose from. The historical Christmas village is perhaps the best for traditional crafts and gifts, with medieval glassblowers, potters and candle makers all plying their trade. The main market is held around the Market church and on the Ballhofplatz, where you can browse over 150 stalls. For something a little different, head to the Finnish Christmas market a short stroll from Ballhofplatz, with the centrepiece 'Wishing Well Forest', made of 50 real fir trees.
Dinkelsbühl Christmas Market, Spitalhof
If you're looking for a romantic setting then you can't do much better than Spitalhof. The medieval town plays host to one of the prettiest and most charming Christmas market every year, with stalls clustered around St George's Minster.
Ettal and Oberammergau Christmas Market
How about a Christmas market in a real German monastery? The Ettal & Oberammergau Christmas Market is tucked away in the foothills of Bavaria, in the grounds of the abbey that dominates this mountain village. Children (and hopeless romantics) will love the horse drawn sleigh rides and pony rides, while the sound of a traditional Bavarian brass band keeps everyone happy all day long.
Cochem Christmas Market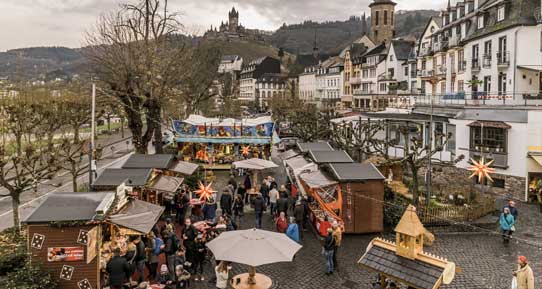 Surrounded by half-timbered medieval buildings and picture-perfect views, Cochem is a stunning little town with a friendly Christmas market filled with gift ideas. It may not be as big as some of the others, but it packs in plenty of entertainment and charm. The main market runs from the last week in November to the week before Christmas.
Dresdner Striezelmarkt
This is one of Germany's oldest Christmas markets, dating all the way back to the 15th century. It takes place in the heart of Dresden and runs right through until Christmas Eve, making it a perfect spot for some last-minute present shopping.
Christkindelmarkt in Baden-Baden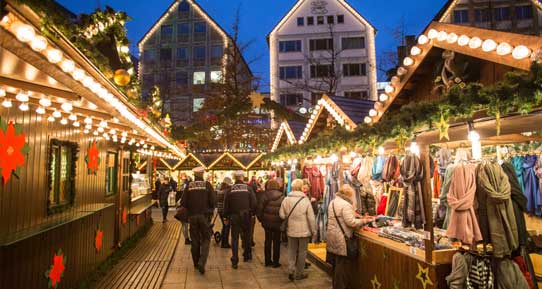 Father Christmas has been known to drop in by hot air balloon at this charming little market in the festive streets of Baden-Baden. You'll find the market stalls outside the entrance to the town's park, 'Lichtentaler Allee', and there's plenty for visitors of all ages, including entertainment for the little ones as they wait for Santa to arrive.
The Green Market Berlin
You won't find turkeys or any of the usual meat-based festive goodies at this market in central Berlin, as the Green Market is the city's biggest vegan market. It happens once every season, and the winter market is very much a Christmas affair, with all of the usual celebrations but not a sausage or turkey burger in sight!
Stuttgarter Weihnachtsmarkt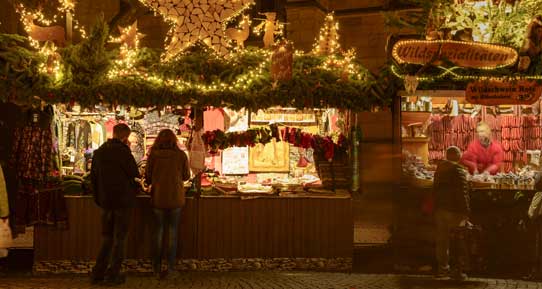 Stuttgart's annual Christmas market first made an appearance in 1692, although it may date back much further than that. At the city's favourite Christmas market you'll find everything from teddy bears to jewellery, gifts and delicious food. If you're touring Germany in a rental car at this time of year, Stuttgart is definitely a stop-off to add to your itinerary.