From historic castles for wannabe princesses to live volcanoes for young explorers, Europe is packed with child-friendly cities to visit. As any parent knows, if the kids are happy, then you can relax and enjoy yourself too. Keep things family-focused by hiring a car from our practical and comfortable Family Collection, and you've got everything you need to go exploring. Need some more help? We've picked out five of the best European cities for a family holiday that will mean smiles all round!
Barcelona – Fantastic beasts and beaches
The brilliant colours and fantastic shapes of Gaudi's iconic sculpture and architecture are sure to inspire children during a trip to Barcelona. Discover dragons in Park Guell, one of the most incredible fantasy themed parks in the world and designed by the artists Gaudi. It's crazy, it's colourful, and kids will love exploring its quirky exhibits. Be awed by the Sagrada Familia, Barcelona's magnificent (and still unfinished) cathedral. Cool off at the beach after a day of sightseeing, or find a quieter slice of Mediterranean paradise a short drive from the city at nearby Platja de Castell or Cala Fonda near Tarragona. The kids will love the Chocolate Museum, where they can learn the history of chocolate, how it's made, and taste a few treats (just to make sure the museum's curators are doing it right!). Or why not check out the ComoCaida interactive science museum, where there's plenty of buttons to press and amazing scientific exhibits to see?
Rome – Fire and fury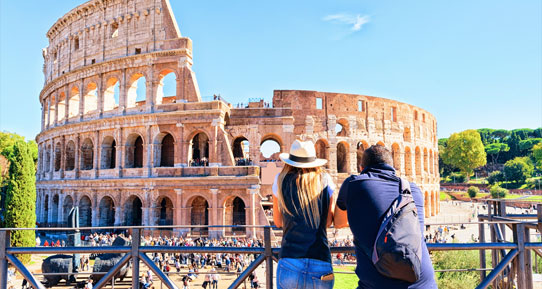 With ancient Roman monuments on almost every street corner, a visit to Rome is like stepping into the past. A trip to the awesome Colosseum, the home of the gladiator. Kids can even go to Gladiator School, where they can learn about the ancient city and even how to fight like a warrior.
The fire and lava spewing potential of volcanoes is another school favourite, so why not take a day trip to Vesuvius? An easy 2½ hour drive from Rome, simply park your car and you can walk along the crater of one of Europe's only active volcanoes.
London – Royal seats and treats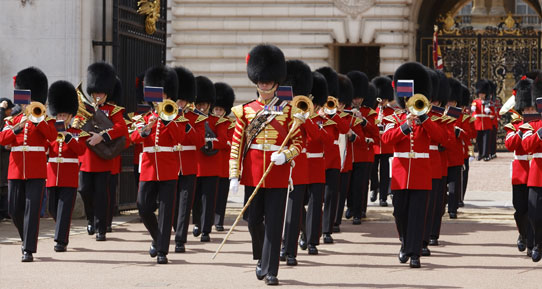 World famous museums and leafy parks make London a big playground for the kids. It's also the place for aspiring princesses and princes. Take them to see the glittering Crown Jewels at the Tower of London, and watch the Changing of the Guard at Buckingham Palace. More reminders of England's regal history lie just outside the city, and an easy day trip away, especially when getting there by car. The kids will marvel at the size of Henry VIII's suit of armour in Windsor Castle, or get lost in the famous maze at Hampton Court.

Geneva – Thrills and spills
Most kids love chocolate, so Geneva, considered to be the capital of all things sweet and delicious, is bound to appeal. If you want to walk off a few excess calories, the city is only an hours' drive from the beautiful mountain town of Chamonix. In winter the slopes are cloaked with snow for skiing and snowboarding, but when the snow has melted the fun doesn't stop. There's no shortage of family adventure with hundreds of kilometres of mountain biking trails to explore, or plunge through the forests on a zip line.
Paris – Disney and discovery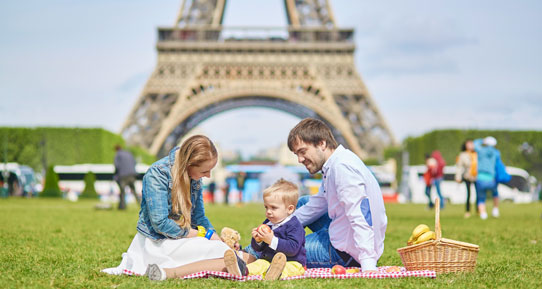 There is so much to do and see with the kids in Paris. Get a bird's eye view of the city from the top of the Eiffel Tower, or enjoy a stroll (or toddle) along the pedestrianized banks of the Seine. A short drive out of the city will take you to two of France's best-loved palaces. The first is the fairy-tale castle of Disneyland Paris. Your little ones' favourite characters come to life at this legendary theme-park and many happy memories will be made. The second is the magnificent Versailles Palace. A short 19km drive (from the city centre, pack a picnic and let them run loose around the fabulous gardens, which includes a carp pond and mini-temples to discover.From adrenaline-fuelled fun to fairy-tale dreams, start planning your next family holiday with Hertz. Wherever you're headed, join us to travel in comfort with everything your family needs.
Travelling with the family this summer? Get a quote from our Family Collection.