The UAE is a constitutional federation of seven Emirates. All these emirates together form a cohesive yet contrasting entity where you can observe all shades of life. From miles-long deserts to oasis cities, and lush green coasts to metropolitan skyscrapers, the UAE has it all.
It's no wonder that a country that is inherently so versatile also offers the same variety to its tourists. People flock to the Emirates each year to unwind, splurge, relax and explore. To make your exploration of the Emirates adventurous, here is a list of some extreme and thrilling activities:
Swimming with Sharks:
Get up close and personal with the wild creatures of the sea. Visit the Dubai Mall Aquarium and Aquaventure Water Park and enjoy the chance to dive into an 11 metre deep tank. Instructors will then take you for the swim of a lifetime. Witness and swim with more than 33,000 sea creatures, including sharks. All you have to do is wear your diving suit and embrace the waters for a spine-tingling experience.
Kayaking:
If you love adventure and wildlife, then book a kayaking tour and set out for a memorable experience. Tread the waters and explore the mangroves' flora and fauna. For an extra edge, try the Night Kayaking Tour or a multiple days' tour. Bon Voyage!
Skydiving:
A popular activity in the UAE, skydiving tops the list of exciting activities of nearly every traveler here. Sky-Diving at The Palm Jumeirah is a big tourist attraction. Operated by Sky Dive Dubai, this minute long freefall is an exhilarating experience. You can also try the indoorskydiving facility at the Abu Dhabi Country Club, which is just as exciting.
Dune Bashing:
If you are visiting the desert landscapes of the UAE, then dune bashing has to be on your to-do list. Go on a desert safari and conquer the sand dunes, as you master your dune bashing skills while riding your powerful and robust four-wheel vehicle.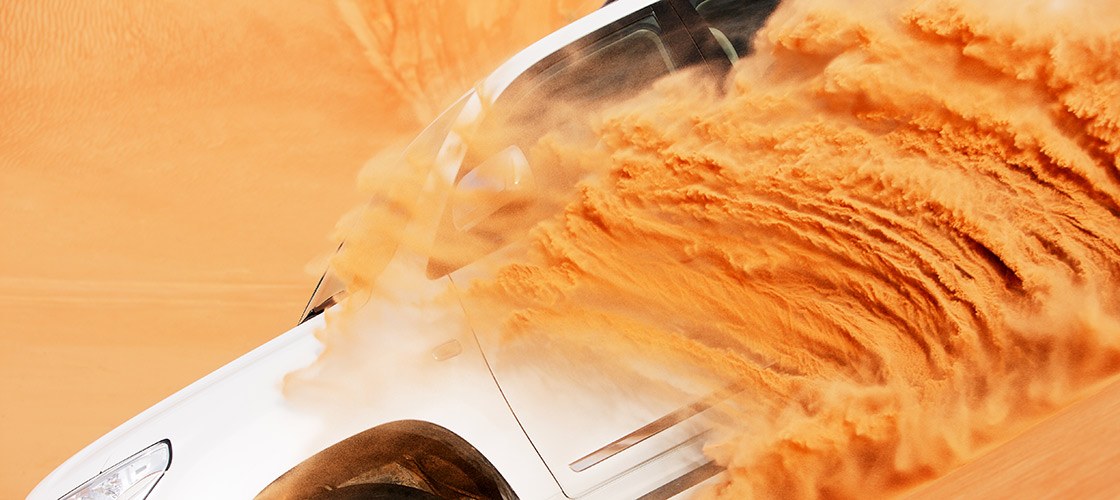 Al Ain Raceway:
If you love adventure and speed, then this 1.6 kilometres long raceway is going to be your paradise. The Al Ain raceway is an international standard go-karting arena. Book your slot and enjoy your car race under the supervision of trained professionals.
Ferrari World:
If Al Ain Raceway has your excitement brewing, then Ferrari world in Abu Dhabi will steal your heart too. Book a visit and enjoy this racing themed entertainment complex with family and friends.
Gravity Zone, Dubai:
The UAE's only permanent bungee jumping facility, the Gravity Zone, Dubai offers a multitude of extreme sports activity to visitors, along with bungee jumping. Feed your inner adrenaline junkie with a visit to this thrilling arena.
When it comes to extreme sports and activities, the UAE surely matches the best in the world. Race from one heart-stopping activity to the next with car rental services from Hertz.