Known as the 'Garden City', Al Ain is a thriving, vibrant city famous for its gardens and seven amazing oases. Approximately 160km from Abu Dhabi and 120km from Dubai, it makes the perfect road trip destination. The journey will take you through some of the Emirate's most spectacular scenery and to a city that's rich in history and culture.
This jewel in the heart of the Emirates is often overlooked in favour of coastal destinations, but we're here to introduce you to this charming destination and give you a few handy hints for the ultimate road trip experience.
Before Going
First, pick your vehicle. If you don't have your own, then it's time to think about hiring a vehicle that is suited to the terrain you're likely to encounter. You can start by looking at the available vehicles to hire at Hertz Car Rental, and decide which one suites the needs of your trip.
Are We There Yet?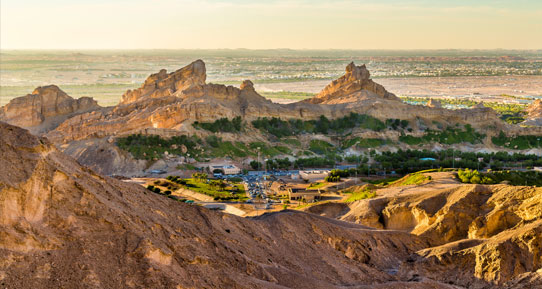 A road trip, by nature, is full of sights and sounds. There is so much to see, and so here's a quick list of some places you might want to stop off and look at along the way.
Jebel Hafeet
Jebel Hafeet is a perfect place to watch the sun go down, and is a truly heart-warming experience. The lights installed along the road give it a magical feel, and mirror the stars in the night sky, ideal for a dazzling night-time trip. Jebel Hafeet is also one of the tallest mountains in the UAE , making it one of nature's true modern marvels. At the foot of the mountain is also Mubazzara Park, where you are welcome to barbecue, swim or simply relax.
Discover Local Culture
The AlAin National Museum and AlAin Palace Museum are two places that are a must-see for anyone who appreciates art and history, or is curious to find out more about the culture of the region.
Al Ain Zoo
Al Ain Zoo is one of the region's best wildlife parks. Set in the foothills of the Jebel Hafeet mountains, it is home to Arabian animals , such as the incredibly rare Arabian leopard, antelopes and oryx, as well as the almost-extinct white lion. It also includes the largest human-made giraffe safari, that will give you a chance to get up close to these beautiful creatures, and even help feed them.
Al Ain Oasis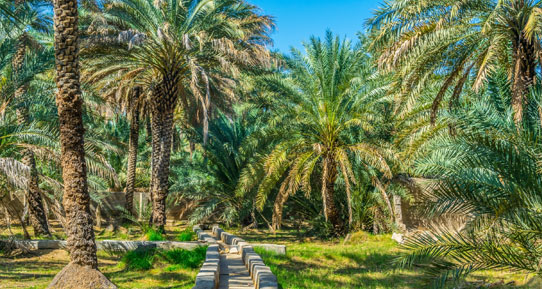 The Al Ain Oasis is a lush, green and cool spot in the north of the city, and is one of the reasons why Al Ain is known as the 'Garden City'. It's ancient underground irrigation system dates back thousands of years and ensures it stays green all year round. You can walk around the oasis, or take the opportunity to ride horses or ponies which lets you explore much more of this 3,000-acre site. Interactive exhibits keep the children entertained while teaching them about the conservation and preservation of this unique environment. Full of more than 147,000 date palms covering over 100 different varieties, it's a truly amazing green space and well worth a visit.
A little shopping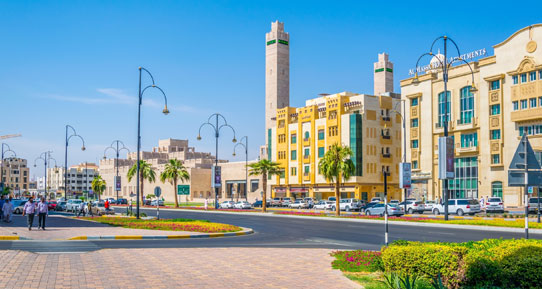 If you fancy bringing back a few souvenirs from your trip, why not check out what some of the malls have to offer? Places such as Bawadi Mall, Al Ain Mall, Al Jimi Mall, Hili Mall, and Al Foah Mall all offer an interesting range of shopping experiences.
A bite to eat
There are plenty of restaurants to choose from to satisfy your appetite, but some of the most famous places to go to for a bite to eat are the Royal House Restaurant, Burger Wings, AlReesh, Tanjore, Min Zaman,Ayla Restaurant and the Golden Sheep Restaurant.
Somewhere to stay
Making sure you get some well-deserved rest after a busy day of travelling is paramount. Where better to do that than the stunning Mercure Hotel? Not only does it make the ultimate luxury destination for the end of your road trip, but you're just a few kilometres from the Wadi Adventure water park, which is bound to keep the children happy. Dine in the hotel's restaurant, or make the most of facilities such as three luxury swimming pools, a sauna, and a mini-golf course. Hertz Car Rental is your natural choice if you're planning a road trip to Al Ain. LeClub Accor members can also earn extra points when renting with us, that can be used to save on the cost of your rental.
Find out more here and start planning your next road trip.