Coronavirus has changed the way we all live our lives, and has affected every single aspect of our daily routine, from shopping to the morning commute. The 'New Normal' is very different from our old routines, with social distancing, meticulous cleanliness, and even wearing a mask at all times when we're out and about.
As we slowly come out of the pandemic and try to regain some sense of normality, we'll still need to exercise caution to prevent the virus from taking hold a second time. That includes rethinking how we travel in our cars for pleasure or the daily commute into and from work. To help you we've put together a few safety tips and measures you should be taking both inside and out of your car.
What can you do in your car to stay safe?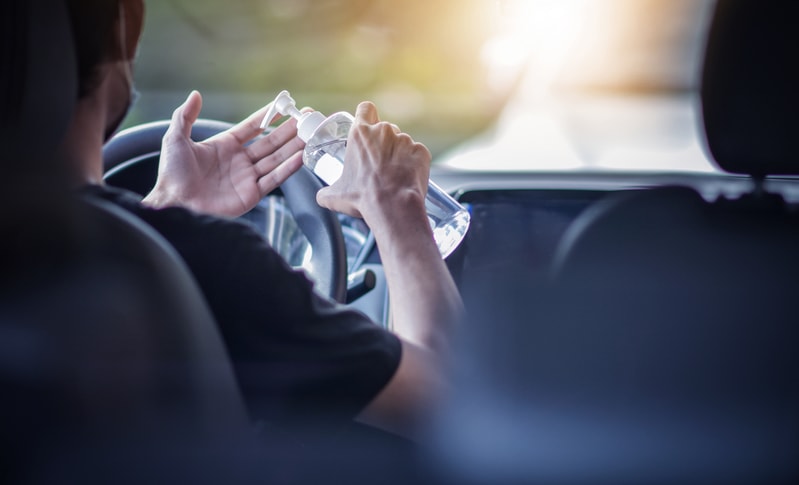 Social distancing includes enclosed spaces such as cars, so you shouldn't offer friends or work colleagues a ride, even if you know them well. Keep the occupants of any car journey to close family only, and from the same household or a very small 'bubble' of close contacts (no more than three or four at the most).
Hand-washing is one of the easiest ways to beat the virus, so make sure you wash your hands before you get into your car, and again once you exit it at journey's end. If you can't wash your hands with soap and water, make sure you have a container of hand sanitizer with you to use instead.
Safety tip: Please bear in mind that both hand sanitizer and latex gloves are highly flammable, so do not leave them in a hot car or in direct sunlight, especially during the summer. Our top tip: buy a pocket-sized container of hand sanitizer and carry it with you so you remember to use it whenever you're out and about.
Weekly cleaning
If you use your car every day then a thorough weekly valet is the best way to keep things safe and clean. The virus doesn't live very long on most surfaces, but can survive for up to several days on some such as plastics and metal. However, in higher temperatures the virus becomes inactive. A wash with soap and warm water shown to be sufficient to remove any traces of the virus from exterior surfaces – concentrate on key contact points such as door handles, and around the doorframe including the roof.
Inside, make sure that any rubbish such as used tissues, is properly disposed of, and wipe down key contact points such as the steering wheel, gear selector lever, parking brake, seatbelts and glove box to make sure they're all thoroughly cleaned.
When you arrive
While there's been much debate about the use of personal protective equipment (or PPE), the general consensus is that masks are useful in controlling transmission of the disease. Gloves, however, can be problematic, especially if you wear the same pair and visit multiple locations, which can actually spread the disease through contact. It's far better to avoid wearing gloves and use hand sanitizer regularly, and wash your hands whenever possible. If you wear gloves to a store then make sure you remove them carefully before you get back into your car to avoid potential cross-contamination.
Overall, the easiest way to stay save while driving during the Coronavirus emergency is to maintain high levels of personal hygiene and cleanliness. Covid-19 can be beaten through simple and practical techniques, and plenty of warm, soapy water!
Stay up to date with the latest developments surrounding COVID-19 by monitoring government sources in the UAE and official health professionals.