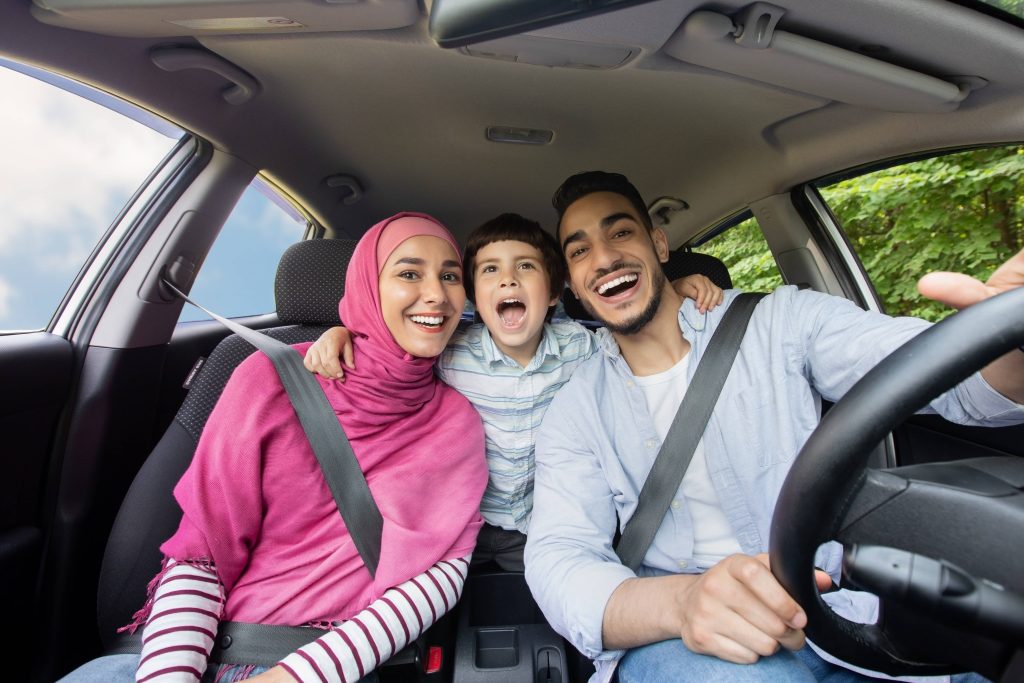 If you have a special family holiday coming up, or want something smaller, greener and nippier for the school run or trip to the Mall, Hertz Car Rental is here to help. Rather than buying a car, why not rent? Long-term rental agreements can be changed as your family needs alter. That gives you greater flexibility, more options, and can work out cheaper than buying a car in the UAE too.
But what do you need to consider before you sign that rental agreement? Here are a few handy hints from Hertz to help you make the right decision.
Size – SUV or compact sedan?
Pick a car from Hertz's UAE fleet and you have the choice of full-size SUVs through to compact city run-arounds. The size of the car you choose will depend on several factors, not least of which is how big your family is, and whether there are going to be any additions in the near future! A sedan or compact crossover with extra space to take a child seat is the obvious choice. But if your children are a little more grown-up then a more compact four-door sedan such as a Kia Picanto will work well.
You will also need to think about parking. If your space is limited, there's no point in renting a car that's too big to fit on your driveway or in your underground car parking space! Make sure you measure up your parking space before you start looking for your family rental car (and don't forget to leave enough room so that your passengers can open the doors!).
Economy – can going green get you further?
The rise of hybrid cars and EVs means that eco-friendly families now have a much greater choice of economical and planet-friendly vehicles. From hybrids that give you the benefits of both a petrol engine and electric motors for city use, to EVs that run solely on electricity, there are some fabulous options to choose from. We particularly like the Polestar 2, a fully electric vehicle that produces zero emissions and is ideal for city driving. The Volvo XC40 is another fully electric option, with the benefits of Volvo's legendary engineering prowess and flawless safety record.
Budget – Rental packages that save you money
At Hertz Car Rental, we know that budget plays a big role in your decision-making process. So we've put together a selection of flexible monthly packages that are tailored to your lifestyle, including those important family commitments.
Drive Green is our eco-friendly family option, where you can rent a hybrid or EV for a duration of one, three or six months, with a monthly allowance of up to 2,500km. Delivering greater efficiency and keeping those emissions down, it's the right choice for couples with young children.
Alternatively, you can go for our Daily Drive flexible package, or our Super Saver package, which gives you a 5,000km allowance per month and includes comprehensive insurance and up to two additional drivers on your policy. If you're planning on doing a lot of travelling and want to tie in your insurance costs in one monthly payment, Super Saver is an ideal option.
What if you change your mind?
This is the real beauty of a Hertz rental package. If you change your mind, or you find that your first choice of car doesn't suit your needs, you can change your mind! With Hertz, our monthly rental packages allow you to swap to a different vehicle so you're not stuck with a car you don't like or doesn't fit in with your lifestyle. It's that flexibility that makes renting a car in the UAE a viable alternative to buying outright.
For more information, have a look at our selection of cars to rent and browse our rental packages to find your perfect fit. And if you have any questions then don't hesitate to drop into your nearest Hertz Car Rental and chat with one of our friendly expert advisors for impartial, no-nonsense advice.