Rumour has it that you need at least a week to see everything that stunning Abu Dhabi has to offer. This insanely over-the-top city in the middle of the desert is a beacon of 21st-century technology, where innovation and extravagance meet traditional Arab values, and yes, you can quite easily spend far more than a week here and not see everything.
But what if you've got just 48 hours? How do you cram in as much as possible in a weekend? At Hertz, we're here to help you not only hire a luxury car for your time here, but to make sure you get the most out of our amazing city. Our top tip: download our recommended apps to ensure you can get from one amazing attraction to the next without getting stuck in the rush-hour traffic!
A petrolhead's delight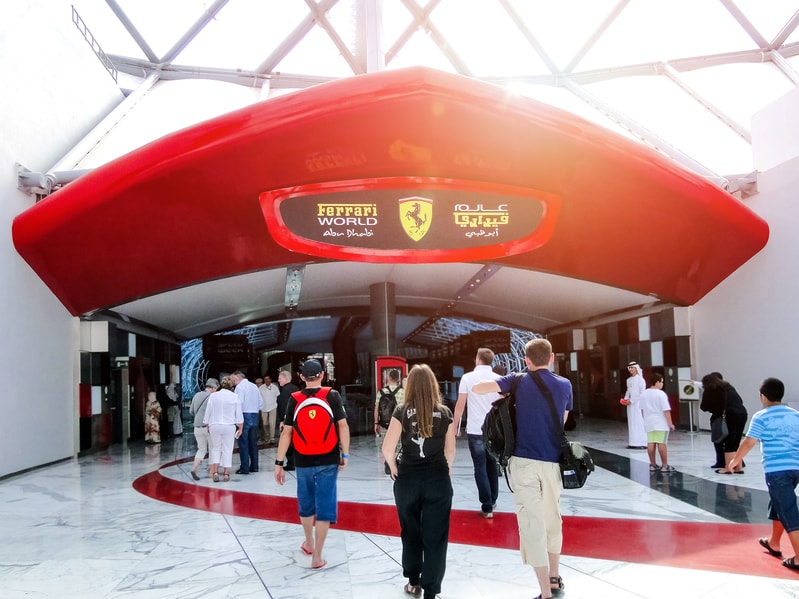 We love our cars (obviously!) so at the very top of our must-see list has to be Ferrari World. How are you with heights? Because no matter how blasé you are about roller coasters, the Formula Rossa will have you squealing from start to finish. It's the world's fastest roller coaster, and one of the biggest attractions at Ferrari World Abu Dhabi. If you can stop your knees shaking after that heart-pumping experience, you can jump on one of the F1 simulators, race the kids on the go-kart track, or learn all about the prancing pony's racing heritage at the museum.
Water, water, everywhere
That's the morning of day one taken care of, now round up the kids, jump in the car, and head to the nearby Yas Waterworld. Over 40 rides for all ages make this one of the top family attractions in Abu Dhabi, and there are even age-appropriate rides for tiny tots, or adrenaline-pumping slides and flumes for teenagers and grown-ups. A great way to cool down.
In the evening, a 30-minute drive will take you to Al Maryah Island, the city's most vibrant and energetic night-time hot-spot. From the most exclusive restaurants to some late-night entertainment or even a bit of after-hours boutique shopping, Al Maryah has earned its name as the 'Manhattan of the Middle East'.
Day two – off we go again…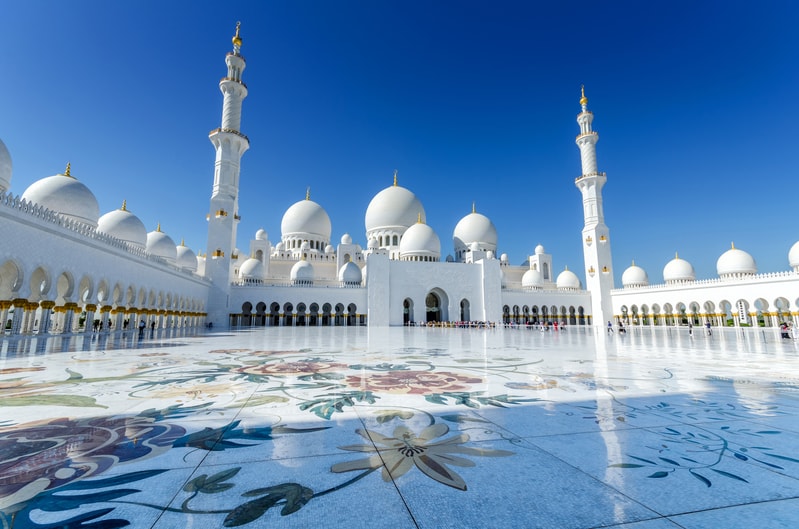 After a few hours' sleep, the ultra-trendy urbanites head to Al Bateen for breakfast, where you'll find everything from Mexican to American brunch wraps. This refuelling stop is just 15 minutes' drive from the Sheikh Zayed Grand Mosque, one of the largest mosques in the world and the pride of Abu Dhabi.
Just 10 minutes away from this beautiful mosque is the Mangrove National Park, where you and the whole family can enjoy an afternoon of kayaking through the mangroves. In addition to the beautiful Abu Dhabi skyline, you'll get to see wonderful views of the preserved nature, as well as several types of bird living in that habitat. You can opt to join a tour group or rent the kayaks and have your own adventure.
An afternoon of art
You can grab lunch at one of the many restaurants near the mangroves, and then head over to the Louvre Abu Dhabi for a little art appreciation. There you can admire the pieces throughout the gallery independently or use their audio guided tour to understand the history of each piece. There are also plenty of exhibitions for you to explore.
If there's one thing that the UAE is famous for, it's a love of falconry. The wonderful Abu Dhabi Falcon Hospital is your chance to get up close to these genuinely beautiful birds and find out what the hospital is doing to help conserve and protect some of the world's most endangered raptors.
With so much to see and do, we can guarantee that one trip to Abu Dhabi is never enough, and we're sure you'll be back again to check out all the bits you missed the first time around!