If you want to leave the city behind for a while, take a scenic drive from Dubai to the spectacular Hajar Mountains where the cool temperatures, rugged horizons and outdoor adventure of Hatta await. Read on to find out the best things you can do in one of the UAE's best ecotourism destinations.
Hit the road
It's approximately 96.5km from Dubai to Hatta (around 60 miles). The most direct route is to take the E44 from Dubai, across the border and straight on to Hatta. If you prefer a more circular route that doesn't cross over into Oman, you can use the E102, turning off onto the 42 just before you reach Munay. This is also a wonderful route if you like mountain roads that give you stunning views around every corner. With clear traffic, the trip should take you around an hour and a half, making it a great weekend destination.
Bear in mind that if you choose a route that takes you across the border then you'll need to keep all of your documents including insurance, car rental documents, personal ID and your passports handy.
The road to Hatta is fine for the standard family car or even a sporty little two-seater, but if you want to do a bit of off-roading up in the mountains then we recommend hiring a 4X4 SUV that'll give you better ground clearance and more grip on loose gravel or rocky road surfaces.
What to do and see in Hatta
The backdrop of the Hajar Mountains is spectacular, and this natural playground is wonderful if you love adventure and the outdoors. Hire mountain bikes and hit the trails with the kids – there are guided tours for those who want to learn a little about the history, wildlife and heritage of the region along the way.
Hatta Dam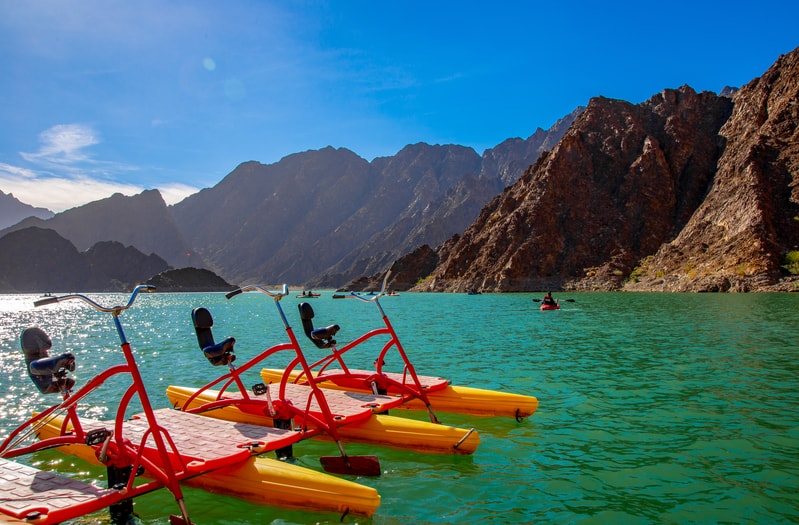 For something a little more relaxed, head to Hatta Dam – one of the most beautiful and tranquil spots in the entire region. You can drive along the Hatta Dam and take in incredible views of turquoise water, or hire a kayak and go paddling to see it from a different perspective.
Hatta Hill Park
This peaceful park is the perfect spot for a family picnic, and there's plenty of shady areas where you can dodge the heat of the midday sun. The kids have plenty to keep them busy with a large play area. It's a favourite spot for locals and visitors alike.
Hatta Heritage Village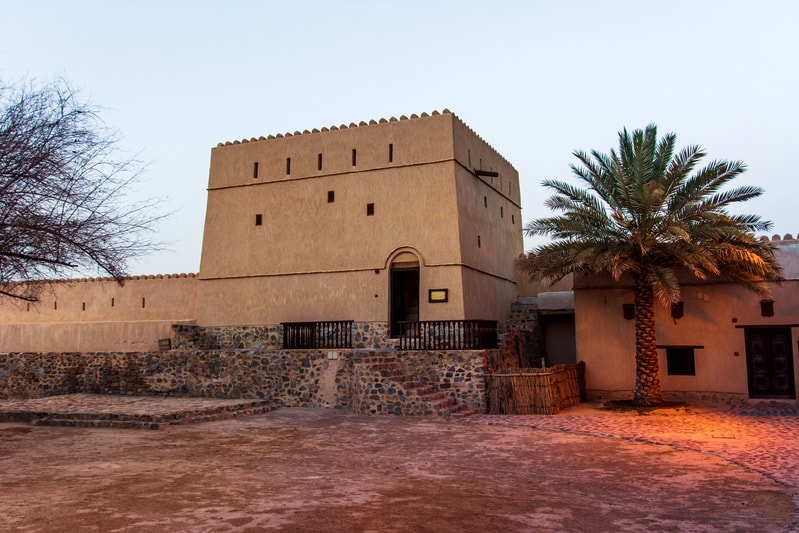 Learn about the history and culture of this unique region with a visit to the Heritage Village which charts the lives of local people stretching back over 3,000 years. The village, reconstructed in 2001, is one of the oldest in the emirate of Dubai, offering a step back in time and a look into traditional life and culture of the time period. It's also a great place to pick up a souvenir of your road trip to Hatta.
Mountain staycation
Hatta's recently-opened luxury trailer and lodge accommodation, the Hatta Damani Lodges, are a great way to enjoy a secluded overnight stay in the Hajar Mountains while still getting all the comforts of a hotel room. Starting from 250 Dhs a night, you can enjoy Hatta Dams in your own private trailer overlooking spectacular views of Hatta National Park, while the Harra Sedr trailers offer communal barbecue facilities and fire pit.
Because you're in the mountains, you'll find there's very little 'light pollution' in Hatta. That means on a clear night, when you've retreated to your cabin, you get a truly spectacular view of the night sky, complete with the Milky Way stretching overhead – the perfect way to end the day!
Adventure sports
Hatta is ideal if you love an adrenaline boost on the weekend. As well as kayaking and mountain climbing, you can head to Hatta Wadi Hub and go zip-lining, try your hand at archery, or get the whole family scrambling over adventure rope courses. If you need to cool everyone down, head to Hatta Drop-in, a water jump park combining sliding, acrobatics and water sports, or bounce your way down a hill with a spot of zorbing.
Explore Hatta
Are you ready for your Hatta road trip? Click here to book your car and get going.