Thanks to its climate, winter activities in the UAE are just as much fun as summer adventures. What makes them different, though, is a lower daily temperature that makes exploring and outdoor activities much more comfortable. You may still need to pack plenty of water if you decide to head off into the desert for some horse riding or hiking the Shawka trail, but there's so much to choose from that there's one thing you'll never be – bored! Here is a list of our five top activities to try before winter ends. Remember, if you need to hire a car in UAE with Hertz to get out and about, we recommend a 4×4 or larger SUV so you can get all your adventure kit in and still have room for the kids!
Horse Riding in the desert
Arabian horses are the most beautiful in the world, with a reputation for strength, endurance, and quite a feisty spirit too! The desert is their home, and there's no better way to reconnect with the majesty of the dunes and the history of the region than by saddling up and going horse riding. It's an adventure that's open to everyone regardless of skill or experience, even if you've never sat on a horse before. Check out riding schools in Dubai and across the region and book a few lessons before heading off on a guided trek.
Kayaking in Hatta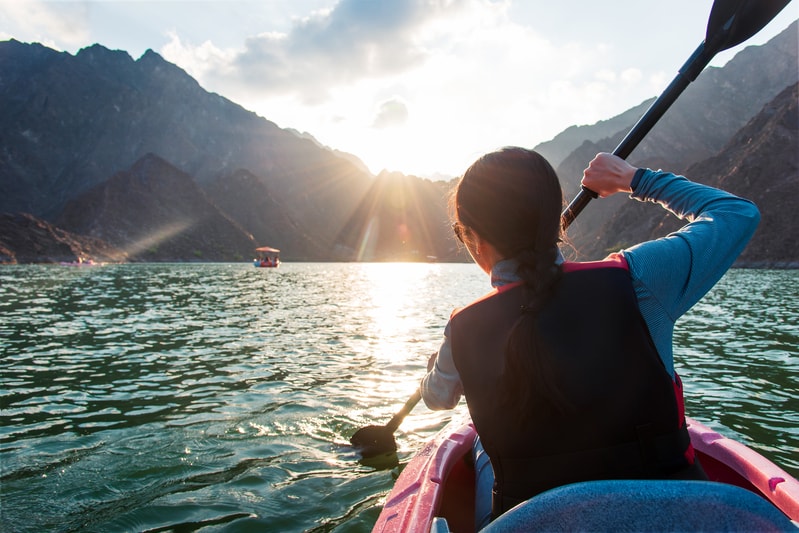 If you prefer the water to the desert then kayaking in Hatta is a must-do. Not only is it an incredible place to get into water sports, but the road trip to Hatta is one of the most popular in the UAE. It takes just over an hour and a half to reach it along the Sharjah-Kalba Road from Dubai, but the drive takes you through some seriously dramatic mountain terrain. When you get to Hatta you can spend as long as you like on the lake. It's tranquil, it gives you a completely new perspective on the region, and anyone can do it!
Hiking the Shawka trail
Lace up your hiking boots and pack an extra bottle of water for this 10.3km loop around the Shawka Dam Mountain Trail. The road trip takes you out to Al Khari and once you're there you'll be able to take your time wandering along a well-marked trail that takes you around the lake. It's rated as a moderate route, so expect some hills as well as fairly even terrain.
Paddle boarding around The Palm
If you have to get back to work on Sunday then keep it local with some paddle boarding fun around The Palm. If you've never tried stand-up paddle boarding (or SUP) before, then this is a perfect place to get your feet wet. as the water is mirror-calm even when the wind is blowing, thanks to the shelter of the Palm. Set off from Al Soufouh beach and give it a go – it's a great family activity and a fabulous way to see a completely different angle of the city skyline.
Quad biking The Big Red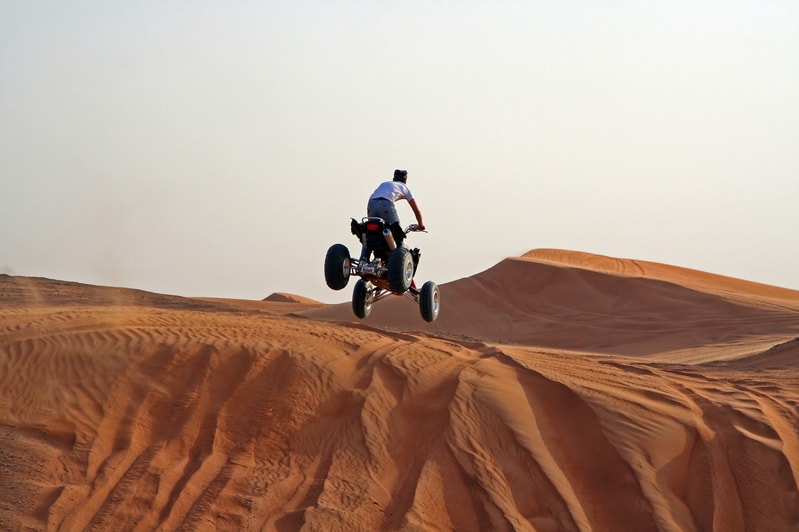 If you want to get up close and personal with the desert dunes then try quad biking at The Big Red. Rather than being enclosed in a 4×4 you're out in the open, tackling some of the biggest dunes in the desert and having a real blast. Again, take plenty of water with you because you're out in the open (which is why doing it during the winter months is so much more comfortable). This one is definitely an adventure the kids will be talking about for years to come!